Featured Friday: Mark Twain Entertainment
Topic: Featured Friday
Love anything Mark Twain? Have him at your next event or school assembly! How do this, you ask? Take a journey back in time with his spitting image to perform for you: Tom Gilding. Tom Gilding is a teacher, author, and riverboat pilot who has performed as Mark Twain since 1984.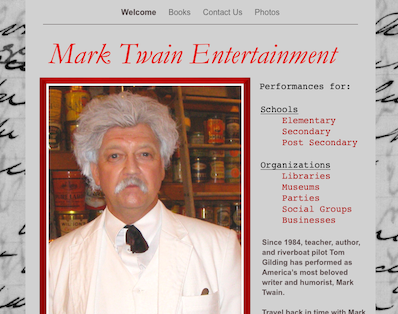 Check out Tom's site at hgilding.angelfire.com to see photos of Tom as Twain, purchae books of Mark Twain tales, or contact Mark Twain Entertainment to do a performance for you!
If you want to see your site featured here next Friday, submit your site at featuredsite.angelfire.com!