Featured Friday: Locksmiths in West Midlands
Topic: Featured Friday
"If you are trying to find a locksmith in the West Midlands, you have reached the right place" reads the first line of midlandlocks.angelfire.com. If you are looking for a nicely designed business website, you have also come to the right place.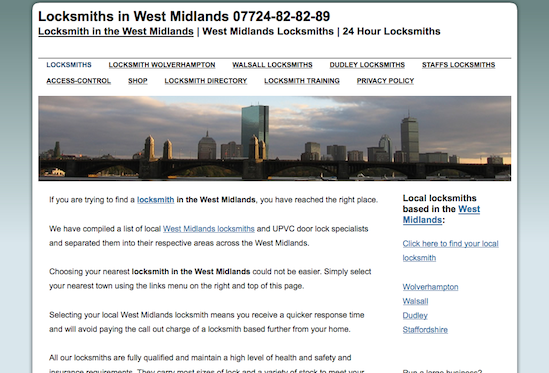 If you aren't in the area and can't benefit from Wolverhampton Locksmiths' services, you can still admire and take a few tips from their website. The site has an easy to follow flow of information with the most useful information right on the front page (services and pricing). You will also notice their excellent use of keywords so that they are sure to boost their website's SEO.
The website is clean and simple, emphasizing what needs to be known and showcases the great work that the locksmiths do. The uniform size of the images makes them helpful to the overall design of the website and doesn't distract the visitor.
All in all, midlandlocks.angelfire.com is a great website whether you want to visit it to find a locksmith or to copy their design techniques!