Featured Friday: Lady Patriots
Topic: Featured Friday
Hockey season is in full swing. The air is getting colder and the ice is heating up - perfect time to go see a Lady Patriots hockey game! The Lady Patriots play out of Warwick, PA.
A little bit about the Lady Patriots:

"Established in 2002, The Lady Patriots is a competitive girls' ice hockey club committed to providing leadership, focus and drive to develop each player to their maximum potential. For nearly ten years, The Lady Patriots travel ice hockey club has been dedicated to the creation of opportunities for female athletes to excel at every level of play."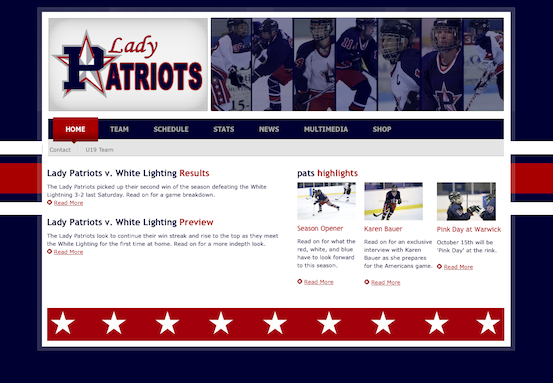 Check out the Lady Patriots website at ladypatriots.angelfire.com to see their awesome design work and check their schedule to see if you can catch a game if you are in the area!