Featured Friday: Dance or Die
Topic: Featured Friday
Dance or Die is a band that started jamming in a basement in 1990 and has been playing together ever since! They are pros at playing the classic oldies that we all know and love and have played many a bat mitzvahs, parties, weddings, and events. You can check their site for upcoming events soon!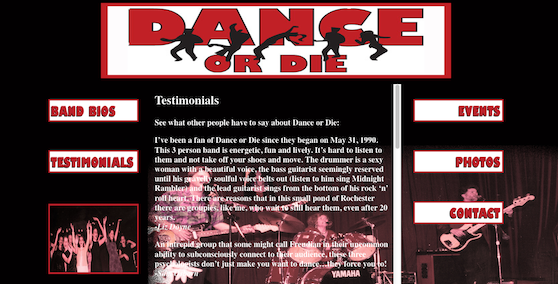 Aren't yet convinced that this band will actually make you feel like you must Dance or Die? Check out what their fans have to say straight from their site: "[Dance or Die is] an intrepid group that some might call Freudian in their uncommon ability to subconsciously connect to their audience, these three psychologists don't just make you want to dance... they force you to!" -- "Make sure seeing Dance or Die is on your bucket list - they put the Rock in Rochester!"
You can also check out photos and band member bios on the site as well as contact them to "book the band or just say hi."
You can check out Dance or Die for yourself at danceordietheband.angelfire.com!