Featured Friday: Smiling Dog Farms
Topic: Featured Friday
Today's site highlights an amazing group out of Wharton, TX, who provide sanctuary to dogs who have been deemed "unadoptable" or have run out of time at a shelter. Jay Hellerich and Richard Clements have been making a difference in the lives of these unique animals since 1994 and have since bought a peaceful 37-acre farm to ensure there will always be a place for the dogs.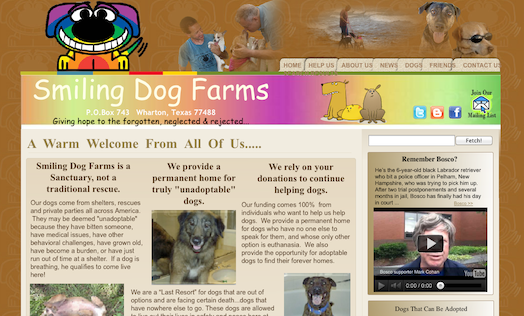 Exploring the site you will discover how the sanctuary began and are able to learn more about the dogs currently at the farm. Though most of the dogs are there to live out the rest of their days, some are available for adoptions and you can learn more about these cuties. Plus, there is a whole section that details the various ways you can help Smiling Dog Farms.

Take a few minutes to check the site out and support a wonderful and caring group!