Featured Friday: Wudang Daojia Kung Fu
Topic: Featured Friday
This week's featured site will teach you more than you ever knew about the art of kung fu. Wudang Daojia Kung Fu is an amazingly designed website with an abundance of information. The site is easily navigated and appealing to any admirer of great web design.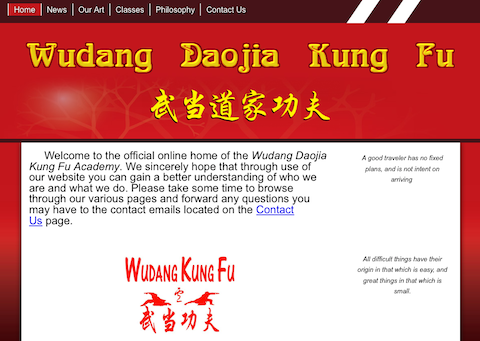 A little bit about Wudang Kung Fu...
Lu Shifu is the owner & Head Coach at Wudang. He trained in China and has over 20 years of Kung Fu experience. The website was built by one of Shifu's senior students, Joshua Perry.
The website is enjoyable to peruse, learning more about their philosophy behind kung fu as well as the art itself. Unfortunately, Wudang is not open to any new students at the time, but you can join the waiting list!
Check them out today: www.wudangkungfu.ca