Featured Friday: Trash To Treasure For You
Topic: Featured Friday
I love HGTV and anything that has to do with home renovation. When Dan first started building his website on Angelfire, trash2treasure4you.net, I thought it was such a great concept - taking old, unwanted pieces of furniture, either found at a yard sale or in some cases on the side of the road, and making them back into great pieces of furniture that are possibly much better quality than those that you pay hundreds for in stores today!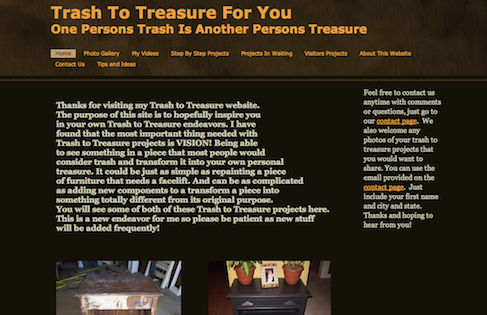 All created with the Angelfire builder, this website does a great job at displaying different techniques you can use to turn a mirror from tacky to classy and rejuvinate furniture bought at a yard sale. Watch videos, flip through a gallery of projects, read through some tips & ideas, and even submit your own photos of your projects.
Visit Dan's website at www.trash2treasure4you.net and learn a thing or two about turning trash into treasure!