Featured Friday: Neighborhood Pet Services
Topic: Featured Friday
I love dogs. I am jealous of anyone who gets to spend their work day playing with and taking care of dogs. I am incredibly jealous of this week's Featured Friday site's webmaster, Laura Kokoski. Laura is the owner of Neighborhood Pet Services in Western Massachusetts and will walk your dog, pet sit your cat, or just visit your animals during the day to be let out or fed if you have to be out of the house and feel bad leaving them cooped up.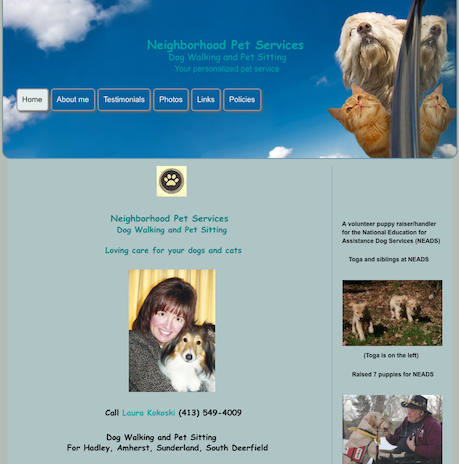 Not only will Laura walk, play with, and feed your pet, she's also an trainer and can teach your pooch some manners! With numerous training seminars under her belt, you can trust that Laura will teach your dog right from wrong - right in the comfort of their own home! Additionally, Laura has been training service dogs since she first became interested in NEADS (National Education for Assistance Dog Service) in 1992.
Visit neighborhoodpetserv.angelfire.com to read more about Laura's work with animals, testimonials, and of course, view pictures of the cats and dogs she cares for!